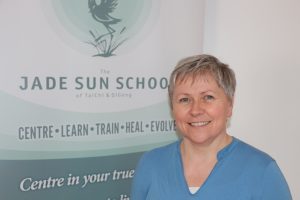 Edel Gormally certified as a Level 1 Tai Chi & Qi Gong Instructor in January 2017, as a Level 2 Qi Gong Instructor on 9th September 2019 and as a Level 2 Tai Chi Instructor in April 2023. She has been a Registered Tai Chi & Qi Gong Instructor with the School since 13th March 2017.
Tai Chi & Qi Gong Classes
Edel offers Tai Chi & Qi Gong classes Blackrock, Co. Dublin. She is also a Practitioner of Solar Sound Healing as well a facilitator of the The Jade Sun School's 'Care for the Self' Healing-Meditation Course (see www.jadesunschool.com).
Edel is also Certified to teach the following Modules:
'Six Word Secret' Qi Gong
Edel Gormally Contact Details
Edel can be contacted on (087) 266 5263 or at [email protected] .
CPD Points Record
2022 2 CPD Points
2020 13.5 CPD Points


2019 2 CPD Points




2018 2 CPD Points
Edel is currently attending our Level 2 Push Hands Instructors Training Course.