Laurence Reddin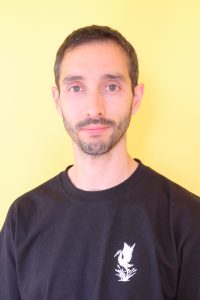 Laurence Reddin certified as a Level 1 Tai Chi & Qi Gong Instructor on 8th February 2016. He became a Registered Tai Chi & Qi Gong Instructor with the School on 29th August 2016.
"I started learning basic Qi Gong from Gary Collins in 2005 with The Jade Sun School. I also had the opportunity to practice Tai Chi while living in The US, and soon after coming back to Ireland I began the 2-Year Teacher Training Course in Tai Chi & Qi Gong with The Jade Sun School of Tai Chi & Qi Gong. This course taught me a great deal-perhaps most importantly it taught me to practice and offer Tai Chi with compassion. Prior to studying Tai Chi and Qi Gong, I completed the Jade Sun School Syllabus in Spiritual Development which was a milestone in my life. In doing so I became a qualified Solar Sound Healer.
I've also been an English Teacher for 8 years which has given me a good foundation in terms of teaching Tai Chi and Qi Gong.
I live in Greystones, Co. Wicklow with my wife Carolyn and our wonderful daughter Sofia-Grace."
Laurence offers Tai Chi & Qi Gong classes in Greystones as well as Solar Sound Healing at Elysium Sanctuary, Sandycove, Co. Dublin.
He can be contacted on 085 1466981 or at laurencereddin@hotmail.com.
Laurence is also Certified to teach the following Modules:
Six Word Secret Qi Gong
The Relationship Between Tai Chi & Qi Gong

CPD Points Record
2019 2 CPD Points
2018 2 CPD Points
2017 4 CPD Points
2016 6 CPD Points
2017/2018 Laurence is also currently attending our Level 2 Qi Gong Instructor Training Course 'The Jade Way' (that commenced February 2017) which consists of one intensive training weekend per month for 30 months.